Haunted High Park @ Colborne Lodge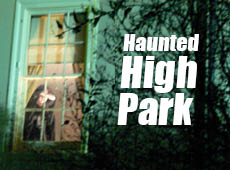 Haunted High Park at Colborne Lodge
Dates available:
Adult and Teen: October 19, 20, 22, 27, 28 and 29 at 7:30 p.m.
Families and Children: October 21 & 26 at 7:00 p.m.

Explore the grounds of High Park after dark and discover the chilling legends and ghostly tales that have been spooking visitors for decades. Discover Victorian funeral and mourning traditions inside the candlelit rooms of historic Colborne Lodge and see what goes creak in the night. Spooky refreshments included. New this year - each haunted walk will be enhanced with a Victorian Seance presented by Doc Wuthergloom of Eldritch Theatre.